1) Introduction to Ashtanga 5 week course
This is a five week absolute beginner's course designed to guide you step by step into the traditional method of ashtanga yoga.
The focus will be on understanding the fundamental techniques and principles behind this method and on learning the beginning postures of the sequence, slowly and progressively, week by week. Suitable for everyone new to yoga and also for any students who would like to start from scratch to learn the ashtanga sequence properly. This course is also ideal for anyone interested in Mysore classes to get to grips with the basics before they start.
The next intro to ashtanga course will start on Wednesday, 20th June 7.45-8.45pm. Book Here.
2) Ashtanga Level 1
This 5 week course follows on from the introductory course, continuing progressively through the ashtanga sequence, with detailed instruction and demonstrations when needed. The basics learnt in the introductory course will be repeated and practiced with new elements added on each week. The most progress will be made if you attend the whole course, but drop in students are welcome to any single class, whether you are a new student wanting to try the classes out or whether you cant make it every week.
The next  Ashtanga Level 1 course starts on Wednesday, 27th June 7.45-8.45pm.  Book Here
3) Ashtanga Yoga General Class
This is a general level drop in ashtanga class. This class is suitable for anyone with a reasonable level of fitness. You will be guided through the poses of the ashtanga sequence at a pace relevant to the students attending. There may be mixed levels in the class but beginners are welcome to join – modifications will be given whenever necessary.
Ashtanga Yoga General class happens every Tuesday evening 7.30 – 8.45pm. Book Here
4) Introductory Workshops
The intro workshop is a one-off workshop covering the fundamental postures and techniques of ashtanga as well as information on the background and history of this system of yoga.  An 'intro to mysore' workshop is geared specifically towards starting morning self practice classes, but works equally well as a general introduction for anyone new to ashtanga.
The next 'intro to mysore' workshop is on Saturday, 23rd June, 14:00 – 16:30. Book here.
You can join our beginners yoga waiting list to be kept up to date when new beginners classes will begin or email me if you have a question about starting yoga.
3) Private tuition
Private lessons are available during the day throughout the week, and some Saturdays, for one-to-one tuition.
Please contact directly to make a booking.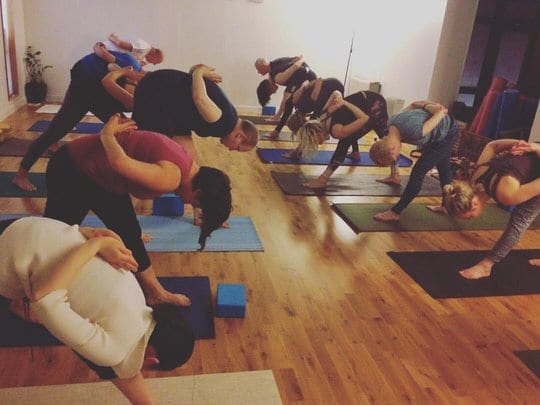 I got into Ashtanga after trying out different forms of yoga. Following on from the beginner's course with Cathy I went on to try Mysore and became hooked. Ashtanga is a strong and often challenging practice but with regular practice and the invaluable knowledge and friendly encouragement from Cathy, slowly but surely I made progress, and after 3 years I still am! There are all different levels of students in the class which helps with motivation and inspiration. I love the energy that comes from the Mysore classes. What better way to start your day! (Katie McKay)