Yoga for beginners options at Ashtanga Yoga Glasgow
1) Moving into Mysore 10 week foundational yoga course
This is a ten week beginner's course designed to ease you into the traditional mysore method of ashtanga yoga.
The first 5 weeks will be focused on understanding the fundamental techniques and principles behind this method and on learning the beginning postures of the sequence, step by step. The second half of the course will be guided self practice (mysore) sessions, putting into practice what was learnt in the first half, and a gentle introduction to the traditional method of ashtanga yoga as taught in Mysore, India. Suitable for complete beginners to yoga as well as those new to mysore-style ashtanga classes. This course can be paid for by purchasing a ten class pass or 2 five class passes to help spread the cost.
The next yoga for beginners course will start Wednesday, 10th January. Book Here
You can join our beginners yoga waiting list to be kept up to date when new beginners classes will begin or email me if you have a question about starting yoga.
2) Introductory Workshops
The intro workshop is a one-off afternoon workshop covering the fundamental postures and techniques of ashtanga as well as information on the background and history of this system of yoga.  An 'intro to mysore' workshop is geared specifically towards starting morning self practice classes, but works equally well as a general introduction for anyone new to ashtanga.
3) Private tuition
Private lessons are available during the day throughout the week, and some Saturdays, for one-to-one tuition.
Please contact directly to make a booking.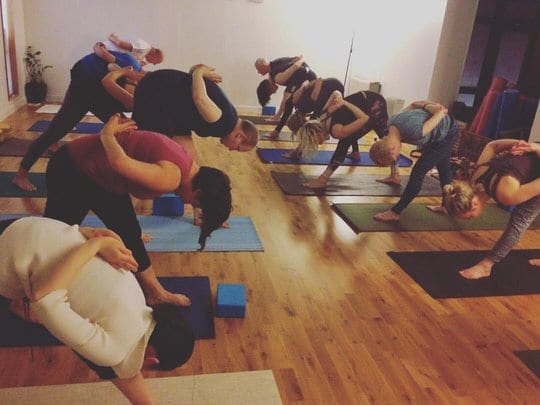 I got into Ashtanga after trying out different forms of yoga. Following on from the beginner's course with Cathy I went on to try Mysore and became hooked. Ashtanga is a strong and often challenging practice but with regular practice and the invaluable knowledge and friendly encouragement from Cathy, slowly but surely I made progress, and after 3 years I still am! There are all different levels of students in the class which helps with motivation and inspiration. I love the energy that comes from the Mysore classes. What better way to start your day! (Katie McKay)