Every last Friday of the Month 6.30am start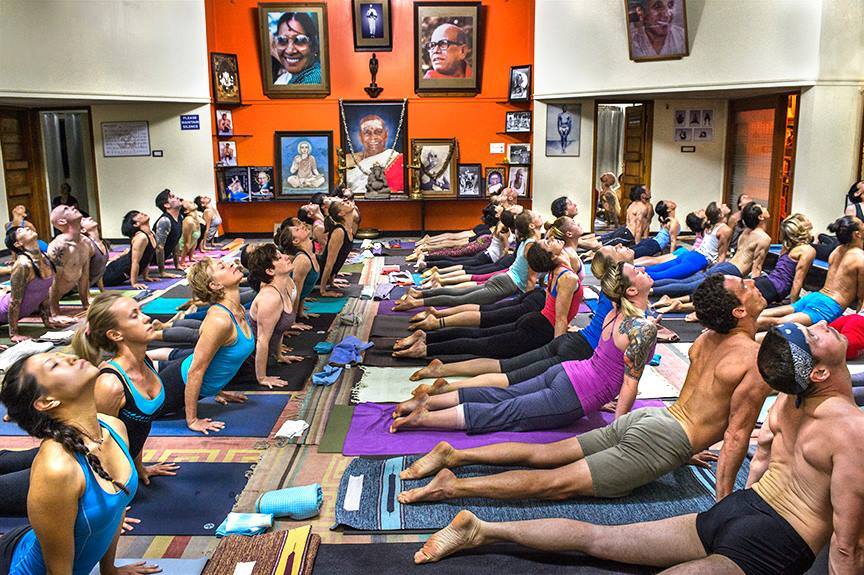 Led Class at the KPJAYI in Mysore, India
At the shala in Mysore we have self practice classes 4 days a week and led classes 2 days, with one rest day. Traditionally the rest day was always Saturday, Friday was led primary series day and Sunday, for those on second series – led intermediate. (For logistical reasons this has now been changed in the main shala – rest day is now Sunday, led primary is Saturday, led intermediate Monday)
At Ashtanga Yoga Glasgow, we do our best to uphold KPJAYI traditions. We observe moon days as rest days, on Fridays we practise primary series only, and once a month, last Friday of the month, we have a primary series counted led class.
MYSORE CLASS VERSUS LED CLASS
Mysore style self practice is the main method of learning ashtanga yoga. It enables the student to develop self sufficiency, to go at their own pace and to be given individualised adjustments and instruction. It allows for students of all levels of experience and ability to come into the same room and practice side by side.
Led classes are there to complement your regular mysore practice. In a led class the teacher will call out the names of the asanas along with counting through the inhales and exhales for everyone to follow.  Led classes are an opportunity to move and breathe in unison with your fellow students, and most importantly to be reminded of the correct vinyasa count, which has a tendency to get forgotten about in our self practice! It is a welcome change to just listen, breathe, follow the verbal cues and be swept along with the collective energy and focus of the class.
The purpose of the led class is not to learn the postures. You should already have an established practice when you come to the class. You should stop at the posture you normally pratise up to, unless the teacher tells you otherwise! You can then either wait and watch until the backbends (at which point you re-join the class), or you can quietly get on with your finishing postures on your own. Observing the class is recommended – as it gives you the chance to become familiar with the asanas you have yet to learn in the sequence!
Counted led primary series class is happening tomorrow morning and on the last Friday of every month  – 6.30am, PYM Finnieston at The Hive…don't miss !!