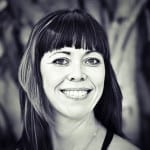 Cathy has been practising yoga since 1999. Although initially interested in various forms, she always found herself drawn to the strength, flow and discipline of the ashtanga system. After a trip to Yoga Plus in Crete 2002 (with teachers Pierre Seghir and Radha Warrell) a true appreciation and understanding of Mysore-style daily practise began to unfold. Initially learning with Alexander Medin at Yoga Place in Bethnal Green, later on with Hamish Hendry at Ashtanga Yoga London, she also completed a British Wheel of Yoga Foundation Course at this time. Over the years she has attended several workshops and intensives with internationally renowned teachers including David Swenson, Richard Freeman, and Rolf and Marci Naujokat.
In 2008 she made her first trip to The Krishna Pattabhi Jois Ashtanga Yoga Institute in Mysore, India. Since then she has returned regularly for extended periods of study with her teacher R Sharath Jois and in 2014 received level 2 authorization to teach the primary and intermediate series.
Cathy now runs Glasgow's only daily Mysore self practice programme. Her passion is for the practise of ashtanga as taught by Shri K Pattabhi Jois and his family in Mysore.  She endeavours to teach, share and pass this method on to others as it was taught to her, in an approachable, friendly and compassionate way.