with Despina Psarra

Workshop – Shoulders, head, neck and face massage: 17th June at PYM Finnieston 1 – 5pm
Ayurvedic Yoga Massage Level 1 Certified Course : 29th/30th July at PYM Finnieston
FOR FURTHER DETAILS AND BOOKINGS CLICK HERE
We are delighted to welcome Despina to PYM !! She will be running some taster workshops and certified training courses in Ayurvedic Yoga Massage. 
This style of massage was developed by Master Kusum Modak in Pune, India, after many years of studying ayurvedic massage and Iyengar yoga
The massage is experienced in different ways by different people. It can work at physical, emotional, mental and energetic levels. It improves breathing, blood circulation and energy flow. It helps open and align the body, and induces a deep sense of relaxation and renewed energy.
It can be adjusted to suit different people, from soft and soothing sessions, to intense remedial sessions.
The traditional way of teaching AYM is very effective at getting students to practise something very effective very quickly. The courses are practical and hands-on, and we learn a sequence of massage strokes, mobilisations and stretches, with indications and contra-indications for each part of the sequence. So students can very quickly offer extremely effective and safe sessions.
Further training will allow students to adjust their sessions better to client needs, and respond to a wider range of client needs more creatively.
WORKSHOP 17th JUNE – 1 – 5pm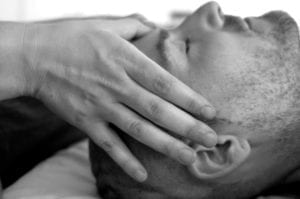 'In this workshop we will cover massaging the neck, head and face, and carrying out some relevant stretches. I often do this with my clients at the beginning and end of the massage as it's so relaxing, and most people tend to tense our neck and head a lot. Offering a neck and head massage to your friends will help them feel light, wonderful and able to relax and rest. The sequence can also often really help with tension related headaches and insomnia. The neck and head massage is extremely effective at releasing tension and at the same time one of the most enjoyable parts of the body to massage.'
LEVEL 1 CERTIFIED COURSE 29th/30th JULY 10 – 6pm both days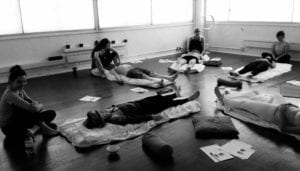 Ayurvedic Yoga Massage Level 1 is an intensive 15-hour course, which teaches you an extremely effective AYM sequence. The 15 hours will be covered over a weekend, i.e. two 8 to 8.5 hour days including the breaks.
Level 1 includes learning a sequence to massage the back of the body with the client lying face down. So we will learn to massage the back, neck and back of the legs with hands and feet, and to stretch the client while lying face down. We will also learn some stretches with the client in a seated position. You can already give people a lovely 60-90 min massage just by attending L1.
ABOUT DESPINA
Ayurvedic Yoga Massage UK was founded in 2012 by Despina Psarra, who fell in love with this method in early 2011. It is now a wonderful, growing community of therapists who support each other and are passionate about sharing this wonderful method.
'I came across AYM in early 2011. I knew I was going to love it when I heard the name (yoga AND massage!), attended a course and fell in love with the method instantly. I started practising AYM full time almost immediately after the course, and realised that everyone else also loves it as soon as they try it. So I have found it difficult to spend any time on anything else since. For years people have been asking me to share the method, and in early 2016, after assisting my teacher during my India trips for two consecutive years, I received his blessing to teach. '
'Since then I have been training lots of wonderful people to help share AYM together. I am really excited to see the AYM UK community grow, to see the light in students' eyes when they fall in love with AYM like I did, and to know that so many more people will be have the opportunity to experience the benefits of AYM as a result.'