WELCOME TO ASHTANGA YOGA GLASGOW
Dedicated to the teachings of Sri K. Pattabhi Jois
Ashtanga Yoga Glasgow is run by Cathy Moran
Glasgow's only KPJAYI Authorized Ashtanga teacher

Traditional Morning Mysore style Classes

Beginners Courses & Introductory Workshops

Guided Classes for all levels in a supportive environment

Private one to one and small group tuition
---
NEWS & UPDATES FROM CATHY
---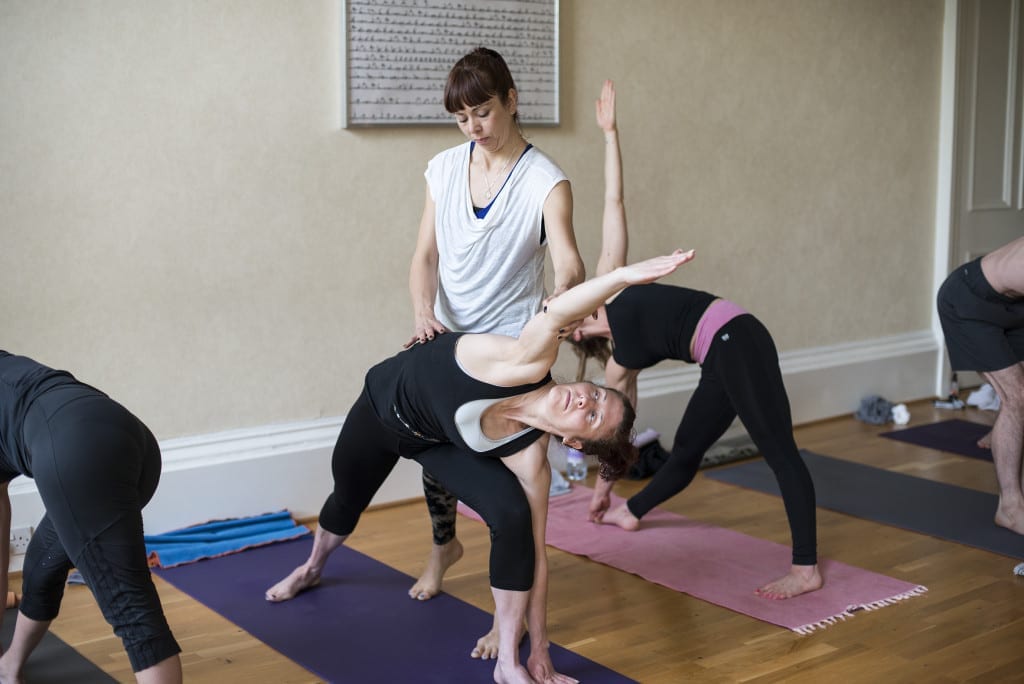 Mysore-style is the traditional way to learn Ashtanga Yoga. (As taught in Mysore, India, where the practice originated).
Mysore classes allow for students to develop their own self practice, learning and memorising the sequence bit by bit. It is the safest, most effective method of learning ashtanga yoga.
The introduction to Mysore workshop is aimed at complete beginners to ashtanga as well as students who have experience of led classes but would like to transition to morning self-practice. The next workshop will take place on Saturday, 30th July at Balance.
Why you shouldn't feel nervous about starting mysore 
Many people feel intimidated by the idea of mysore self practice classes in case they don't remember how to do the sequence or they fear they won't be good enough. 
But there's no need to worry – mysore classes are mixed level classes suitable for beginners right through to advanced students. 
What you'll learn in the workshop
Background to the the ashtanga system 

Explanation on how the ashtanga sequence works and how it is designed to be learnt

Fundamental techniques used throughout the ashtanga sequence 

Sun salutations and finishing postures so you have the essentials of practice to build on
By the end of the workshop you will have a suitable sequence from which to start your own self practice and have the confidence to give Mysore classes a try!
Workshop Costs
£25 

£35 includes one week of mysore classes ( please pay the extra £10 seperately on the day of the workshop)
Location and How to Book 
The workshop will take place at Balance 118/122 Napiershall Street, North Kelvinside, Glasgow, G20 6HT
Workshop Date: Saturday, 30th July 2016
Workshop Time: 15:15 – 17:45
You can book online for the workshop through Balance's website. Places are limited.

Who comes to Mysore class? Why do they come?
A series of posts presenting some of our regular mysore students, and their experience of mysore practice, in their own words.

A rejuvenating week of ashtanga yoga, with delicious organic food in the tranquil setting of a beautiful farmhouse retreat surrounded by nature..
NEW TO ASHTANGA YOGA?
---
GET STARTED WITH AN INTRO TO ASHTANGA WORKSHOP OR A BEGINNER'S FOUNDATION COURSE
ASHTANGA
---
"The full ashtanga system practiced with devotion leads to freedom within one's heart."
A dynamic, physically challenging practice, following a set sequence of postures. Deep steady breathing synchronised with the postures creates a purifying internal heat, which burns away toxins, resulting in a strong, light body and a calm mind. With dedicated practice over a period of time comes the potential to transform your life, not just physically, but mentally, emotionally and spiritually too.
WHAT IS MYSORE STYLE?
---
Learn Ashtanga Yoga the traditional way, as it is taught at the Krishna Pattabhi Jois Ashtanga Yoga Institute in Mysore, India