WELCOME TO ASHTANGA YOGA GLASGOW
Dedicated to the teachings of
Sri K. Pattabhi Jois
Ashtanga Yoga Glasgow is run by Cathy Moran
Glasgow's only KPJAYI Authorized Ashtanga teacher

Traditional Morning Mysore style Classes

Beginners Courses & Introductory Workshops

Guided Classes for all levels in a supportive environment

Private one to one and small group tuition
NEWS & UPDATES FROM CATHY
---
New to Ashtanga Yoga?
We have two options for you to get started this week!!
INTRODUCTION TO ASHTANGA 5 WEEK COURSE
Starting Wednesday 20/6, 7.45 – 8.45pm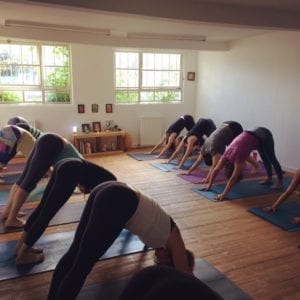 In this introductory course you will learn the techniques and foundational postures of the ashtanga primary series progressively, step by step, week by week. You will be encouraged to memorise the sequence as we go along,  with the aim of starting a personal practice that you can do on your own by the end of the 5 weeks.
Suitable for complete beginners – no experience of yoga is necessary as we will start from the beginning.
This course also suits students who have some scattered experience of ashtanga but would like to start fresh and learn properly.
Price: £45   Drop in option also available: £12     BOOK HERE
INTRODUCTION TO MYSORE-STYLE SELF PRACTICE
Afternoon Workshop, Saturday 23/6  2 – 4.30pm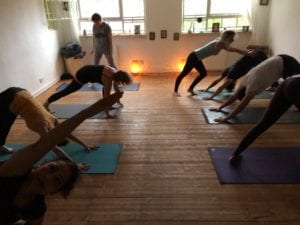 An introduction to Ashtanga Yoga specifically geared towards starting Mysore self practice classes.
We will cover the basic principles and techniques underlying this method of yoga and explain it's origins and purpose.
We will go through the beginning postures step by step, memorise them, and practice them .
Finally we will do a mini class, mysore style, so that you understand exactly how it works and what to expect!
This workshop will leave you feeling ready and confident to join our ongoing morning or evening mysore sessions.Suitable for complete beginners to ashtanga yoga, as well as students with some experience who are interested in transitioning to mysore style classes.
Price: £25  BOOK HERE
Every Wednesday at Ashtanga Yoga Glasgow, Siobhan Fitzgerald will be available for massage, and yoga. Siobhan will be offering Indian, Thai and Ayurveda massage, as well as pre and post natal massage.  read more…
NEW TO ASHTANGA YOGA?
---
GET STARTED WITH AN INTRO TO ASHTANGA WORKSHOP OR A BEGINNER'S FOUNDATION COURSE
ASHTANGA
---
"The full ashtanga system practiced with devotion leads to freedom within one's heart."
A dynamic, physically challenging practice, following a set sequence of postures. Deep steady breathing synchronised with the postures creates a purifying internal heat, which burns away toxins, resulting in a strong, light body and a calm mind. With dedicated practice over a period of time comes the potential to transform your life, not just physically, but mentally, emotionally and spiritually too.
WHAT IS MYSORE STYLE?
---
Learn Ashtanga Yoga the traditional way, as it is taught at the Krishna Pattabhi Jois Ashtanga Yoga Institute in Mysore, India