WELCOME TO ASHTANGA YOGA GLASGOW
Dedicated to the teachings of
Sri K. Pattabhi Jois
Ashtanga Yoga Glasgow is run by Cathy Moran
Glasgow's only KPJAYI Authorized Ashtanga teacher

Traditional Morning Mysore style Classes

Beginners Courses & Introductory Workshops

Guided Classes for all levels in a supportive environment

Private one to one and small group tuition
NEWS & UPDATES FROM CATHY
---
Mysore-style is the traditional way to learn Ashtanga Yoga. (As taught in Mysore, India, where the practice originated).
Mysore classes allow for students to develop their own self practice, learning and memorising the sequence bit by bit. It is the safest, most effective method of learning ashtanga yoga.
The introduction to Mysore workshop is aimed at complete beginners to ashtanga as well as students who have experience of led classes but would like to transition to morning self-practice. The next workshop will take place on Sunday 23rd July with Gem Maryan at PYM Finnieston. read more…

Our next 10 week beginners Ashtanga Yoga course starts Wednesday, 14th June. 
Ashtanga yoga is an intense, flowing style of yoga in which the same poses are always done in the same order.
It is suitable for all levels of fitness and for complete beginners to yoga.
Benefits of Ashtanga Yoga
The system is designed to therapeutically realign and detoxify the body. Inner body heat is produced during the practice through special breathing with sound. This, combined with two important internal body locks (bandhas), induces sweating. Toxins are eliminated from the body and the nervous system is purified. It's also leaves you feeling more calm and energetic. The regular practice of Ashtanga Yoga increases flexibility, strength and balance.
Every last Friday of the Month 6.30am start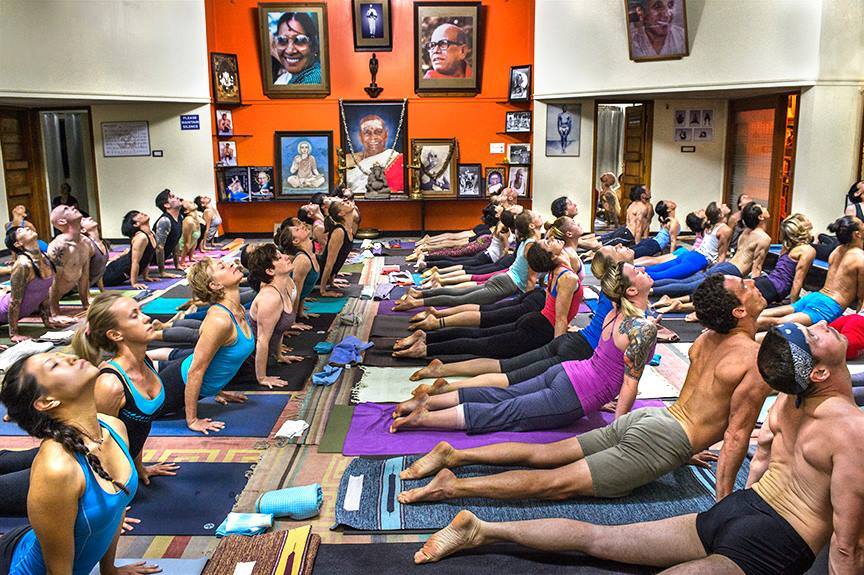 Led Class at the KPJAYI in Mysore, India
At the shala in Mysore we have self practice classes 4 days a week and led classes 2 days, with one rest day. Traditionally the rest day was always Saturday, Friday was led primary series day and Sunday, for those on second series – led intermediate. (For logistical reasons this has now been changed in the main shala – rest day is now Sunday, led primary is Saturday, led intermediate Monday)
At Ashtanga Yoga Glasgow, we do our best to uphold KPJAYI traditions. We observe moon days as rest days, on Fridays we practise primary series only, and once a month, last Friday of the month, we have a primary series counted led class.
MYSORE CLASS VERSUS LED CLASS
NEW TO ASHTANGA YOGA?
---
GET STARTED WITH AN INTRO TO ASHTANGA WORKSHOP OR A BEGINNER'S FOUNDATION COURSE
ASHTANGA
---
"The full ashtanga system practiced with devotion leads to freedom within one's heart."
A dynamic, physically challenging practice, following a set sequence of postures. Deep steady breathing synchronised with the postures creates a purifying internal heat, which burns away toxins, resulting in a strong, light body and a calm mind. With dedicated practice over a period of time comes the potential to transform your life, not just physically, but mentally, emotionally and spiritually too.
WHAT IS MYSORE STYLE?
---
Learn Ashtanga Yoga the traditional way, as it is taught at the Krishna Pattabhi Jois Ashtanga Yoga Institute in Mysore, India